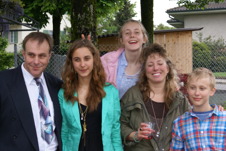 Familie Brügger

(In English - read further down)

Wir sind die Familie Brügger von der Schweiz aus dem Kanton Bern.
Unsere Namen sind Cornelia, Roland, Stefanie, Fabienne und Michel.
Durch Zufall haben wir ein Inserat von der Feriendestination Badolato Kalabrien erfahren. Gleich auf Anhieb haben wir uns in das charmante Dorf verliebt.
Bereits bekamen wir ein super Angebot für ein Haus zu kaufen und haben sofort zu geschlagen. Jetzt sind wir am Renovieren mit der Hilfe von Domenico Leuzzi, Roberto, Pascal und vielen guten Seelen. Domenico hat uns sehr unterstützt bei verschieden Übersetzungen, Veranlassung für den Geometer, Strom, Wasser, Steuern, Versicherungen, Lagerung von unseren Möbeln die wir in unserem Haus hineinstellen möchten und ganz vielem mehr. Er ist ein Toptalent.
Das ganze Dorf strahlt mit seinen Bewohner so viele Herzlichkeiten aus.
Bis unser Haus fertig ist dürfen ein Haus von Vessela und Vasco Kristova mieten.
Nun hoffen wir auf ein baldiges Wiedersehen und verbleiben mit lieben Grüssen Roland und Familie.

Englisch:

We are the family Brügger from Switzerland from the canton Bern.
Our names are Cornelia, Roland , Stefanie, Fabienne and Michel. Be chance we have received Badolato calabria.
Immediately we fell in love with the charming village. Already we got a super offer for a house to buy and have immediately struck. Now we are renovating with the help of Domenico Leuzzi, Roberto, Pascal and many good souls. Domenico has given us a lot of support for various translations, for the surveyor, electrcity, water, taxes, insurance, storage of furniture we would like to put in our house and much more. He is a toptalent.
The whole village radiates so many cordialities with its inhabitants. Until our house is finished, we can rent a house of Vessela and Vasco Kristova. Now we hope to see you soon amd remain with kind regards, Roland and family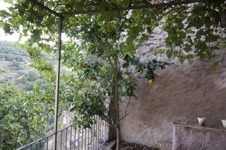 Veronica & Stefan
Our Discovery of Badolato
In 2004, Veronica, Stefan and Christopher (then 7 years old) stumbled on the village of Badolato whilst looking for a self catering place to stay. A local called Domenico Leuzzi, with his recently set up real estate and restoration company, Costa degli Angeli, let out one of his restored houses to us. We were, then, the first Swedes/Scandinavians to set foot in Badolato Borgo.

Our Thought, Feeling and Sight of Badolato Borgo
During our initial few days stay we were captivated by the medieval atmosphere of the village, the constant ringing of the church bell (remaining you of the rest of the day ahead), the sheer kindness and warmth of the locals even though at that time they did not come in much contact with people of another culture (as it is today). It is a magic place.
We saw Costa degli Angeli's business concept of restoring 15th and 16th centuries houses (while paying attention to preserving the village's rich heritage and architectural treasures) to revitalize this mountaintop village as a compelling idea – just think of Positano on the Amalfi Coast – also a hill top village abandoned more than 50 years ago and is now one of the most travelled destinations in the world, thanks to the foresight of a foreign investor whose visualization of the village did, indeed, come true.

Our Vision of Badolato Borgo
In 2004 we took the "risk" of being the first Swedish family to purchase and restore an abandoned house. In assisting Costa degli Angeli to participate in "Köpa Hus Utomlands" exhibition in 2005, the awareness and development of Badolato Borgo took off on a steady path. Today, more than 20 house buyers have their 2nd/summer house in the village – over a dozen are Swedes with the rest being Swiss, British, American, Australian, Dutch and Italians. Additionally at Badolato Marina, there is a housing estate developed in 2008, the so called "Danish Village" (or Villa Collina) where more than 130 Danes have their 2nd home.
Badolato, whether it is Borgo or Marina, has today become an international place to live, stop-over, visit, meet, eat, exercise or hideaway from the stressful world. It is today a much talked about place.

On Domenico Leuzzi
A local who grew up in Germany, fluent in languages, was brought in as a translator to help Kurdish refugee families resettle in Badolato when they landed on the shore in 1997. He was touched by the warmness of the village folks towards the refugees and inspired by the village's history of perseverance and its centuries-old original structures coupled with the spectacular views of the Ionian Sea and the mountainous landscape. He set to embark on a revival project – to bring life back to the medieval village of Badolato by setting up Costa degli Angeli.
It is obvious that Domenico's vision, hard work and dedication over the years have transformed this medieval village into what it is today.
We have known him for over 12 years and found him to be honest, meticulous (it's got to do with his growing up time spent in Germany), creative, and very skilful at designing houses. When it comes to punctuality, he is on the upper scale for Italian/Southern European standard (again, it's got to do with his time spent in Germany). Obviously there are times when it is hard to be on an exact timeline for completion of a restored house but he does deliver as agreed. For that, one can trust Domenico.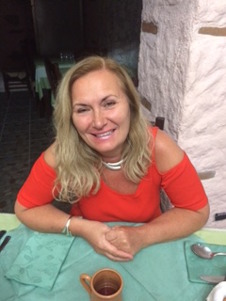 Cheryn
When I first visited Badolato just over 8 years ago, I was captivated.
Badolato's history, architecture and surrounding beauty, coupled with the sea views and the friendly and welcoming people means it is the perfect place to relax, I just had to have a small part of this wonderful place.
With the help of Domenico and his team I had a small run down house renovated and I am now privileged to visit this amazing place as often as my busy life allows












Lisa
Står på balkongen i Badolato och njuter av den magnifika utsikten.
Bergen, havet och dom djupa dalarna. Olivlundarna och citronträden. Ler. Solen smeker min kind. Inom mig nynnar jag Danne Stråheds låt "det är nog lite närmre till himlen från Österlen" men ändrar texten "Det är nog närmare till himlen från Badolato"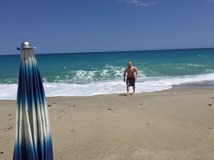 Jonas
Måste erkänna att jag blev lite skeptisk till Badolato när jag hörde alla de fina omdömena. Åkte dit. Kom efter den korta serpentinvägen upp på torget. Där började det släppa. Vilken häftig utsikt! Mycket god middag på en restaurang vid torget. Dagen därpå blev det bad i havet. Då blev jag helt såld!